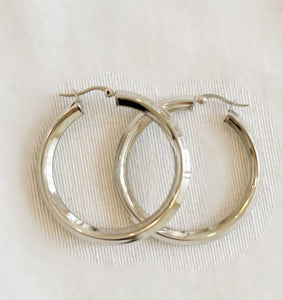 Upgrade your accessory game with our Stainless Steel Hoops featuring a sleek knife edge design. These hoops are perfect for anyone who loves to add edgy sophistication to their outfit.
Crafted from high-quality stainless steel, these earrings are hypoallergenic and ideal for those with sensitive skin. The lightweight hoops are comfortable for all-day wear, and the secure latch ensures they stay in place.
With their modern design and versatile style, our Stainless Steel Hoops are a must-have for any fashion-forward individual. Whether you're dressing up or keeping it casual, these hoops will add a touch of boldness to your look. So why wait? Order yours today and elevate your accessory game to the next level!